Export sources
---
There are many reasons why you might want to export sources—for example, you might want to:
Share sources with others who do not have NVivo

Include your source materials in reports or presentations
What do you want to do?
---
---
Export a source
Click on the source in Detail View or List View.

On the Data tab, in the Export group, click Items.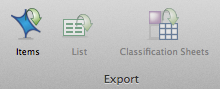 Keyboard Shortcut To export an item, press ⌘ + SHIFT + E
(Optional) You can change the name of the exported file or choose to save it in a different location. If you are exporting a document, you can also change the file format.

Click OK.
NOTE
You can select and export multiple sources of the same type—for example, you could export five document sources.

If you want to export a transcript, make sure you click in the transcript first.

Top of page
What file types can I export to?
Source type
Export file types
Document, memo or external

Microsoft Word (.docx, .doc)
OpenDocument Text (.odt)
Plain text (.txt)

PDF

Audio/Video

 

The media item only—in its original audio or video format.

The transcript only—to Microsoft Word (.doc, .docx), PDF (.pdf), plain text (.txt) or OpenDocument Text (.odt)

Top of page